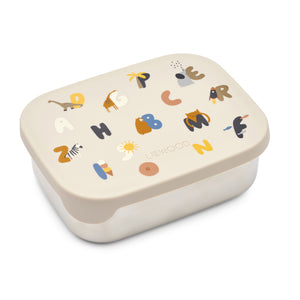 STAINLESS STEEL LUNCH BOX
A classic lunchbox with contemporary additions, Arthur is a lightweight, stainless steel lunch box divided into three convenient compartments with a flexible silicone lid.
Stainless steel lunch box
 Lightweight and durable
 With flexible silicone lid
 Divided into three convenient compartments
 Material – base: Stainless steel
 Material – lid: Silicone
 Does not absorb colour or scent from its contents
 Available with either cat or bear-shaped lid in playful colours
 Holds approximately 900 ml.
 Note: The lunch box should not be used to store liquids if placed non-horizontally.
Dimensions: Heigth (cm) 5.5, Width (cm) 13.5, Length (cm) 17
Material Composition  
100% silicone
Silicone Properties
• Free from harmful chemicals like phthalates
• Safe contact with food:
• Hypoallergenic 
• Soft, does not break if dropped
• Stabile temperature when in contact with hot and cold content
• Easy to clean